OTR Wheel Engineering, Inc. offers a full range of services, available ala carte according to customer needs, for a total customer-driven solution, complementing our deep product line-up. Examples include:

Tire Mounting

Warehousing

Foam-Fill

Tire Liner
(TyrLyner®)

Wheel Inspection/
Certification

Subassembly
TIRE MOUNTING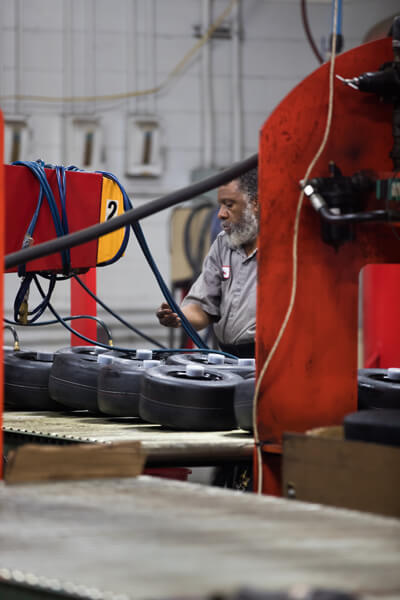 OTR provides tire mounting services for large and small OEMs, covering tire and wheel assemblies for high-volume and low-volume/high mix programs. Mounting services are approved by well-known global OEMs, with operations set up in N. America, Europe and Asia. Higher volume programs leverage "pockets of automation" to ensure targets for cycle times. Examples include:
Tire band cutting
Tires pressed on wheels, after heating
Beat seat settings
Tire air pressure checked and filled using "smart" systems
OD verification via digital measurement
Mounting services can be expanded to include:
Sequencing: Configuring and staging components/assemblies according to the customer build schedules, on a real-time basis, for maximum efficiency and cost abatement. This service can be extended, if appropriate, to include OTR staff embedded in the customer's facility for online support.
J-I-T Delivery: Products delivered exactly when required, so there is no need for the customer to store and accumulate stocks in their facility that takes up valuable space, incurring overhead costs in the process.
WAREHOUSING
In addition to tire mounting and sequencing, OTR warehouses products, whether needed for OEM safety stock or consignment, or distributors, especially for new programs with no history of demand. OTR's facilities in the U.S., Canada, Europe and Asia are strategically located to support customers, serving as "leveraged resources" for key customers.
For more details, consult with OTR's operations staff.
FOAM-FILL & WHEEL EXCHANGE PROGRAM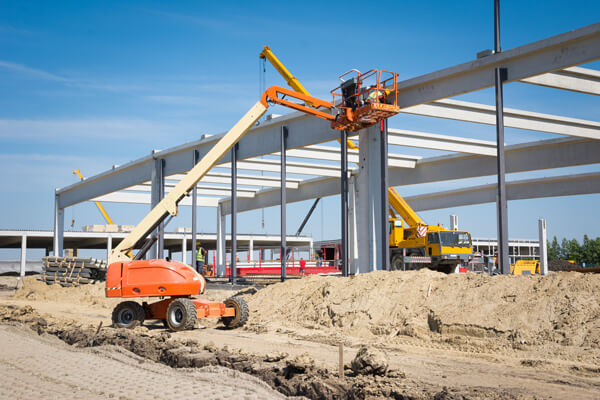 OTR's telehandler exchange program is designed for rental companies and designated tire dealers operating as service providers to ensure same- or next-day tire and wheel assembly replacements to ensure there is NO downtime for end users. No downtime means 100% uptime for maximum productivity and machine utilization, both of which are critical for ensuring a good ROI.
The exchange program works as follows:
Customer orders set of exchange assembles, e.g. four wheels and tires.
Tire dealer ships assembly typically within 48-hours.
Once received and mounted in the end customer's vehicle/machine, the end customer ships their old tire and wheel assembly (4) back to the tire dealer.
Tires are demounted, foam is removed and replaced with new foam; wheels are inspected and if required, cleaned and painted.
OTR uses premium OEM-approved resins for foam-fill, with an optimal blend of new resin and recycled foam called crumb. We also utilize advanced machines so there is no "chunking", which in turn can lead to air pockets and premature tire wear and failure. This focus on high performance in the process, coupled with the fact our tires and wheels are OEM approved, ensures an optimal solution and more value all stakeholders.
Contact your salesperson to learn more. We can also assist in providing guidance on fitments and tire selections.
TIRE LINER & FLAT-PROOFING OPTIONS
OTR offers several options to flat-proof tires.
TyreLyner® and TyrFil 360™
Airless tires (learn more here)
Semi-pneumatic with foam-fill (learn more)
Solid tires, pressed onto wheels (learn more)
Mold-on rubber wheels (for inside factories, with non-marking coating) (learn more)
TyrLyner® is a permanent, self-healing urethane rubber sheet securely adhered to the inside of the tire casing. Its purpose is to "heal" cuts from road debris and punctures caused by objects up to 1/4" in diameter that penetrate the tire's skin. When a puncture occurs, the centrifugal force of the rotating tire, coupled with internal pressure forces, forces TyrLyner® into the puncture zone resulting in a permanent seal. Tire balance and structural integrity are NOT affected.
Extends useful life of tire, resulting in replacement cost savings
Environmentally friendly; less waste from damaged tires
Enhances operator safety and peace of mind
Improves operator/fleet productivity and utilization, enhancing profitability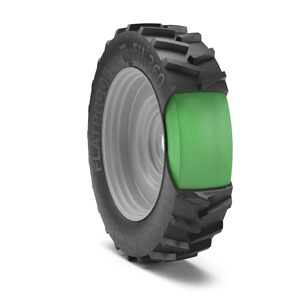 OTR also offers a unique flat-proofing option for irrigation tires using center pivot wheels. This option, called TyrFil 360, is a polymer-based ecofriendly tire fill that combines the best of both worlds—lightweight and never flat. TyrFil 360 utilizes advanced chemicals to provide a super lightweight fill that allows pneumatic tires to operate as they were filled with air.
WHEEL INSPECTION & CERTIFICATION
OTR performs wheel inspections and certifications, notably for mining and material handling vehicles, as well as gantry cranes used at ports. Mining vehicles operate under extreme environments with heavy loads and stress that fatigue wheels over time, notwithstanding nonstop gravel bombardment that damage wheels. Material handling vehicles used at ports are vulnerable to accelerated wear & tear due to exposure to salt spray, coupled with continuous heavy loading. In both cases, safety is a major concern, when a wheel or tire fails, not to mention concerns with demounting and installation if not done properly.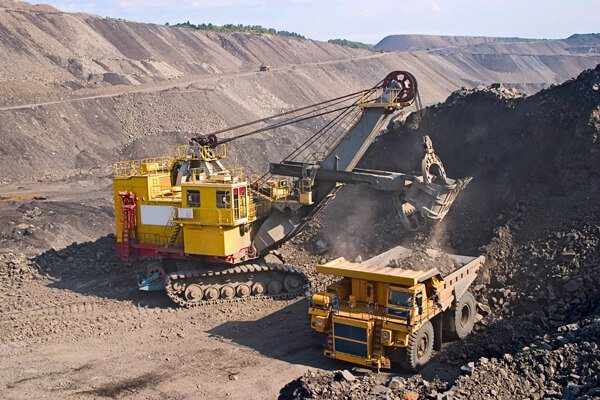 Mining Vehicles
The process for recertifying mining vehicles is as follows:
Retrieve wheel from mine site
Pressure wash tire and wheel assembly
Dismount
Register (documentation)
Inspect wheel
If wheel passes, repaint and return to customer; if wheel fails, send report to customer
Repair or replace wheel; return or scrap defective wheel
OTR also offers proven go-no go gauges to facilitate wheel inspections. Contact your salesperson for more information.
Material Handling Vehicles
The process for wheel inspection is as follows:
Identify wheels that have metal fatigue in areas of high wear.
Identify the age of the wheels and in-service time.
Identify wheel manufacturer(s). Depending on the wheel, we have data that highlights typical failure modes for competitors' wheels.
Identify wheel duty cycle and configuration, e.g. with 6-, 8- or 10-BAR rims, in order to determine whether the wheel is "under-engineered" (mismatched) for the application in scope, as a possible assignable cause for wheel failure.
Inspections are facilitated by OTR's proprietary ultrasound scoping technique. Contact your OTR salesperson to start the process.
SUBASSEMBLY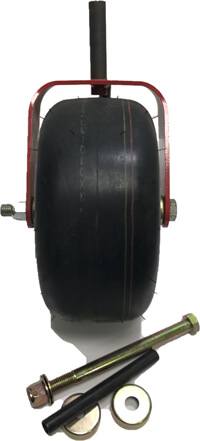 OTR offers subassembly services at many of its location, providing the opportunity for OEM customers to outsource a range of items. Examples include front caster wheels for zero-turn mowers; suspension systems for UTVs; and front bumper and counterweight assemblies. Benefits include
Subsystem assembled, inspected, warehoused, sequenced and supplied just-in-time from OTR facility
Reduces SKU count and complexity
Option to rack and stage items in OEM facility, freeing up valuable real estate
OEM specifications supported, e.g. lubrication requirements and tire pressure, relieving OEM from this work
Option for OTR to assume purchasing function for subassemblies, as a Tier 1 supplier
FACILITIES
Services are available at various OTR locations. Discover which location is right for you.