OTR's product portfolio includes tires, wheels, assemblies, tracks, tubes, ballast and more. Our tire line-up comprises over 1,700 models and 300+ distinctive treads, with bias and radial pneumatic versions—directional and non-directional; semi-pneumatic; solid; non-marking; and airless. The portfolio also includes over 1,000 wheels, with single- and multi-piece versions in steel and aluminum, as well as cast disc units. In total, there are over 100,000 standard items to choose from, many of which can be customized for unique applications. Learn more.
PRODUCTS
Products include wheels, tires, assemblies, tracks, tubes, belts, ballast and accessories. Learn More.
100,000+ standard items, with the ability to modify parts for custom applications and/or create all-new systems.

Assemblies

Tires

Tracks

Tubes

Wheels
SERVICES
OTR's deep product offering is complemented by a wide range of services including tire mounting, warehousing, foam-fill (with a wheel exchange program), tire liner, wheel inspection/certification and subassembly that can be selected ala carte according to customer needs. Learn more.

Tire Mounting

Warehousing

Foam-Fill

Tire Liner
(TyrLyner®)

Wheel Inspection/
Certification

Subassembly
HIGHLIGHTS
OTR's history of proven successes, borne of off-the-road mobility focused innovations, have set the standard in our core markets, solidifying OTR's position with well-known global OEMs, distributors and end users alike.




FACILITIES
OTR's global footprint comprises 35 facilities located in N. America, Europe and Asia, ensuring local support for key OEM customers and the aftermarket as akey element of our value proposition. Manufacturing locations are located in the U.S., Canada, China, Thailand and Sri Lanka.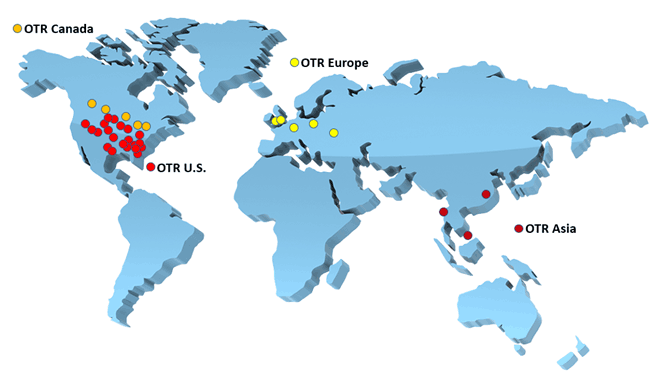 MARKETS
OTR products and services support a wide range of markets, with performance that delivers on our brand promise to drive our customers forward. Core markets served include:

Agriculture

Construction

Forestry

Lawn
& Garden

Material
Handling

Mining

Powersports

Specialty
Vehicle
WHAT OUR PARTNERS ARE SAYING
"OTR has been a long-standing preferred supplier to AGCO since 1997 and has been an instrumental part 1996of our supply chain to grow our AG equipment business in North American. In 2020, AGCO introduced OTR as our wheel and tire supplier for our cornerstone small HP tractor range. Overall, OTR is very good to work with and is always responsive to address concerns and meet our customer needs. AGCO is excited for a successful relationship in the years to come." (Ingi Fenger, Global Purchasing, AGCO)
"Our Company has been working with OTR Wheel Engineering for more than 15 years. They have been an essential supplier in the mining wheel category, manufacturing wheels for Cat Haulers and Loaders, providing a complete line of Wheels, Rims and Components of excellent quality, price and delivery time. (Dafne Rojas, Gerente Comercial, Aros Chile)
"OTR has supported Honda since 2016 and we continue to grow our partnership with them. In 2019 we expanded our scope to include mounting for our Side by Side lines. OTR has completed every task we've given them with speed and precision. We look forward to our continued relationship together." (Blake Claude, Honda Operations)
"Currently we use OTR products on Komatsu 830 E dump trucks running at Vale Mining Carajas and CAT 777 haul trucks at Vale Mining South. Product quality, whether it is welding, machining or painting ranks among the very best in the industry. Container shipments leave on time and always include the necessary documents to ensure smooth sailing and customs clearance. I would confidently recommend OTR as a preferred wheel supplier." (Lucas Pinheiro, New Business Manager, DCML.)
"We have been using OTR wheels for several years now on our CAT 795 haul trucks at the mine sites. We're running 7 piece Speed Wheels and also 5 piece standard wheels, with excellent results. OTR is covering all of our CAT replacement needs, with good hours and good service." (John Tucker, Superintendent, Nevada Gold Mines)
HISTORY OF EXCELLENCE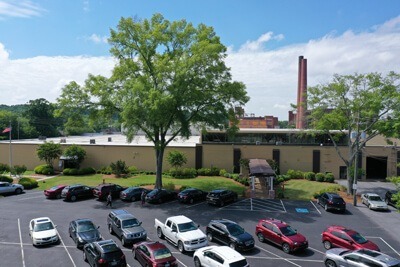 1987: OTR Wheel Engineering founded in Rome, Georgia by Fred B. Taylor.
1995: Opened facility in Chambersburg, Pennsylvania for first major OEM customer, JLG; launched game-changing Outrigger tire line.
1996: OTR Canada formed via acquisition of the business, Northshore.
1997: Silverstone acquired, based in Omaha, Nebraska.
1997: Opened facility in Ackerman, Mississippi for OEM customer, Taylor Machine Works.
1999: Acquired OTR Wheel in Quincy, Illinois and folded into OTR Wheel Engineering, providing additional manufacturing capability.
2005: OTR China established, in Wuxi.
2005: Opened facility in Shady Grove, Pennsylvania, to support Grove International.
2005: Moved to new facility in Louisville, Mississippi.
2007: OTR Europe established, in Derby.
2009: OTR Thailand established, in Chon Buri.
2011: OTR Sri Lanka established, in Colombo.
2013: Long's Wheel & Rim acquired.
2015: SolidBoss acquired.
2016: Expanded Rome facility to include new corporate headquarters.
2017: Southern Wheel & Rim acquired. OTR International formed. Silver Diamond Services (SDS), Mansfield, TX and Trans American Rubber (TAR), in Denver, CO acquired.
2018: Fieldens OTR acquired and established, in Suffolk, U.K.
2019: Partnership establish with Owners Resource Group, OTR configured as a member company. OTR Germany established, in Sande, located near Wilhelmshaven in northeast Germany.
2020: OTR Europe expanded to include operations in the Czech Republic.
2020: SolidBoss OTR U.S. East operations.
2021: Silverstone and its businesses, SDS Trans American Rubber, fully integrated into OTR, forming the basis for OTR U.S. (with SolidBoss included).
2021: New CEO and president, Tom Rizzi.
OTR's COMMITMENT
OTR's commitment to INNOVATION, PERFORMANCE, PARTNERSHIP and VALUE—our brand "pillars"—is something that not only drives our business, it also complements what our customers need and expect, ensuring there is mutual benefit and collaboration for the long-haul. This is why we say, DEMAND MORE. ROLL MORE. We're more than just tires and wheels; we are your off-the-road mobility solutions partner. Join our team and challenge us. We're ready.